Washington 24, Bleak Future 0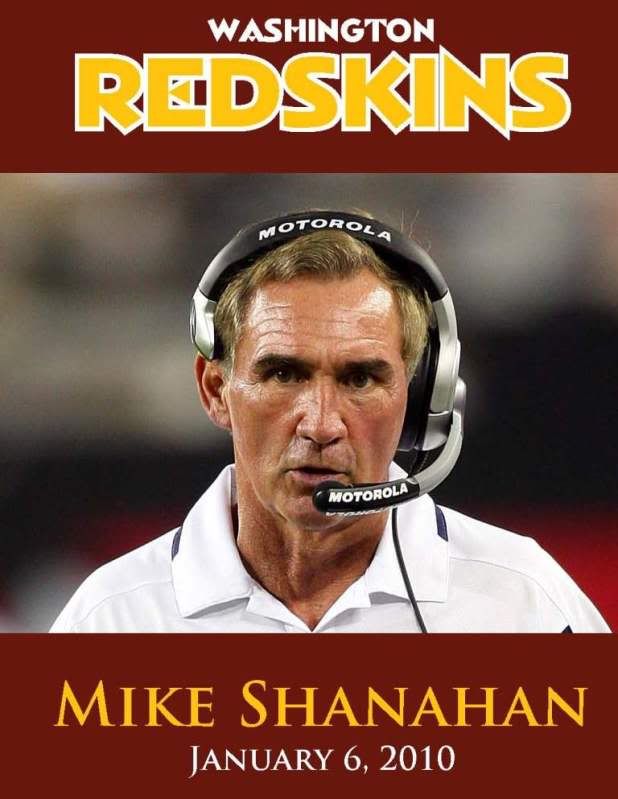 The future, to quote a famous man in Washington history, is now. Redskins Vice President Bruce
Allen introduced Mike Shanahan as the new head coach with this phrase: "We got our man."
What
immediately struck me about the press conference, aside from the absence of Super Bowl trophies on display, was the businesslike atmosphere presented by Allen and Shanahan. Owner Daniel Snyder, who has introduced each new coach to the press was conspicuously absent. Allen briefly reminded the press of the qualities he outlined in a prospective coach, including a knowledge of Redskins history, said Shanahan's name, then let the new head coach field the questions.


To his credit, Shanahan said what would be expected, such as how great the opportunity is to work with the franchise, what a great relationship he has with Snyder, and so forth. When it came to Clinton Portis, a runner he coached in Denver, Shanahan took a more evaluative tone,
saying that he liked what Portis showed early last season (when the Skins were a promising 6-2), but there need to be some reviewing of tape and off season work to review him and other veterans. Contrast that to his thoughts on Jason Campbell: Shanahan said he was "looking forward to working with Jason" and thinks that "his best years are still ahead." Draw whatever conclusions you may; I'm inclined to believe that Mr. Campbell may be in burgundy in gold longer than Mr. Portis. Either way, the new head coach certainly has his hands full with the
developing infighting
between his team captain and star running back. Shanahan made a point to say that if problems develop, they will stay within the team and that they "will be strongly disciplined."


At the heart of the pathetic on-field results with the franchise is a deadly combination of ownership interference and poor player selection. According to the new head coach, he will technically have final say, but plans to work closely with Bruce Allen in such decisions. Shanahan sounded like he would take a methodical approach to reviewing his assistant coaches and players. Again, Snyder's lack of presence at the podium spoke volumes about who and how this team will chart its course.


My favorite Shanahan quote came right at the beginning of the presser. He said, to the press, the organization, and the fans, "I promise I won't disappoint you."
We'll see.