As the final score of Dallas' Doomsday (21st Century Edition) was shown by FOX, only half of my attention was on the celebration at FedEx Field.
No, I was still in the middle of making my rounds, calling every single Dallas loyalist I knew to laugh in their collective faces and, if necessary,
to pray with them.
It was a rare and wondrous treat. No flukes, no last minute blown coverages, no excuses. The Redskins won fair 'n square in the worst beatdown of the 45-year old rivalry.
Sure, it may not have been particularly "sporting" or in concert with the widely accepted definition of "sportsmanship" for me to throw salt and cracked pepper in the wounds of the Cowchip Faithful; certainly it wasn't very nice of the Public Address Crew at the stadium to continually play "Mama, Don't Let Your Babies Grow Up to be Cowboys" during Dallas' futile final drive.

But these are the moments that solidify the status as Greatest Rivalry in the NFL, as Sports Illustrated noted last week. It's George Allen firing up his 1972 Redskins for their championship game against Dallas with a well-timed f-bomb, it's Troy Aikman hitting Rocket Ismail in 1999 for a overtime-winning 76-yard touchdown, and it's Daryl Grant intercepting Gary Hogeboom in 1982 and high-stepping into the end zone. And now we have the 2005 games, instant classics in a battle that spans generations.
By the way, I just LOVE how some Dallas fans, via the anonymous safety of Internet commentary, find lukewarm comfort despite the game's outcome. One poster (poser?) offered this rebuttal to my happiness: I know you skins fans are happy to finally sweep us (after getting swept all those 7 years by us)…but the season is not over my fiend (not a typo). But you are right Bill (Parcells) and Jerry (Jones) are both crying their eyes out all over the Cowboy's 5 (count 'em) Lombardi trophies! ….That is what counts.
As tempting as it was to pass along the number to a great anger management counselor (plus an English major), I offered the following: I love how some Dallas fans want to suddenly minimize this playoff-implication/avoid the sweep/decades-old rivalry game now that their team didn't bother getting off the bus. I'm sure the last thing on Parcells and Jones' minds are those trophies in the Cowchip lobby. Don't kid yourself.
The responsible Dallas fan should probably take this whipping with some grace–Parcells tried in his postgame conference–and start worrying about protecting Bledsoe from the Panthers' front four. See, Washington did what the Giants did two weeks ago–pressured your fossil QB like we earned points for it. And your o-line had zero response, even AFTER halftime. In fact, they gave up MORE sacks after Genius Parcells' halftime adjustments than BEFORE!
Quit the gloating and be afraid. Be very afraid.
God bless the Internet.
If there is one day, nay, one week for Redskins fans to stick their chest out proudly, it is now. Regrettably, it's been so long since we dominated Dallas that we've got to make the most of every opportunity. Sue us. (And yes, I just bought the DVD with the TV and radio commentary from my favorite eBay seller.) So in the great spirit of unnecessary taunting on which our country was founded, I present a visual retrospective of one of the greatest days in Redskins history. Pictures courtesy the Washington Post, the Associated Press, me, and FOX broadcasting.
One voice, among the masses, dared speak the truth.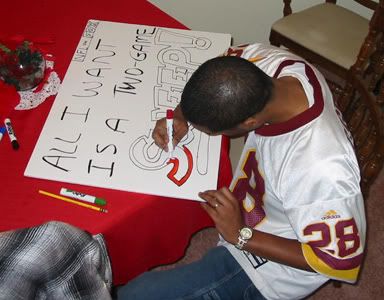 This was the second edition. The first, vetoed by my wife, said "All I Want for Christmas is Sade."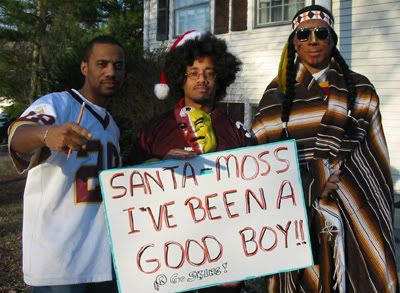 One of these people needs counselling. Can you pick which one?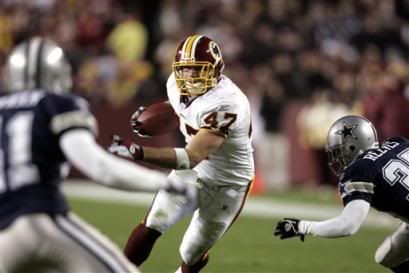 I love this picture because it shows my favorite Cowboy, #41 Terrance Newman, mere moments before he gets completely trampled by Cooley en route to his 30-yard touchdown. If Newman, who was burned twice by Santana Moss back in September, isn't YOUR favorite Cowboy then I question your Redskins Loyalty.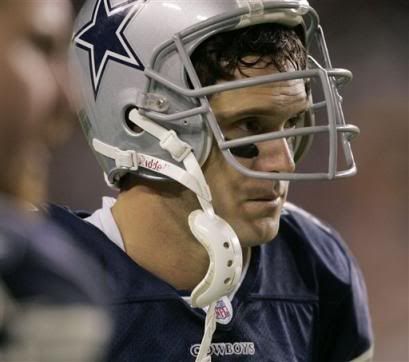 Drew Bledsoe, runner up in the "Stunned Beyond Belief Face" category of the 2005 ESPYs. The only way he could play worse is if he used the Rhine Fire in Madden 2006 later that night.

Keyshawn Johnson, not ready for his close up. In the first half, Keyshawn launched an expletive-filled tirade at kicker Billy Cundiff after he'd missed a field goal, apparently disappointed at Cundiff's poor performance. Keyshawn's final numbers? 2 catches, 20 yards. Physician, heal thyself.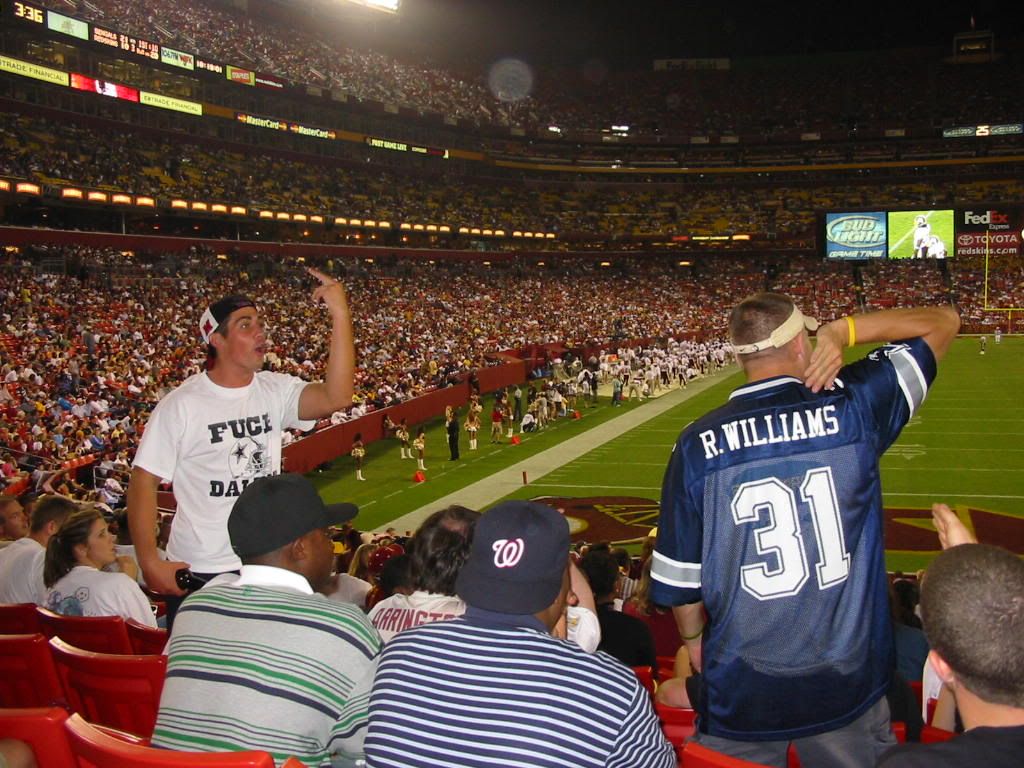 No, this wasn't from Sunday, but from the Cincinnati pre-season game. Just seemed appropriate. Kids, don't drink alcohol. Our read t-shirts.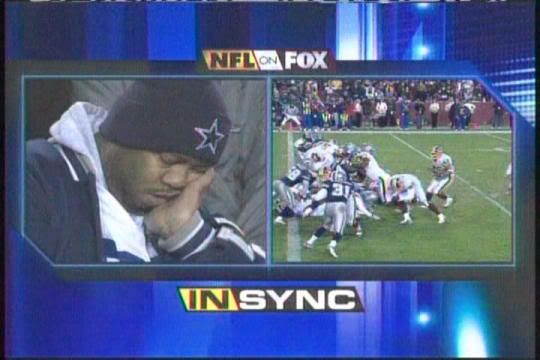 The FOX production crew ought to be ashamed of this, the first use of IN/SYNC that night, to show a Dallas fan missing his team going down 35-0 in the third quarter. Even after the cheers, he didn't budge. Kids, did I already mention the dangers of alcohol?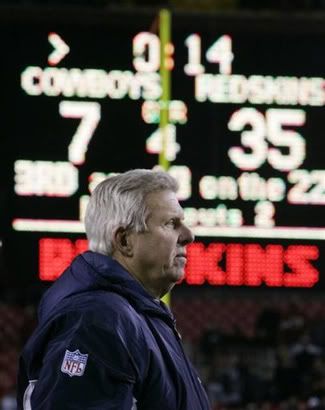 A classic shot worthy of desktop wallpaper, home office decoration, and Christmas ornaments.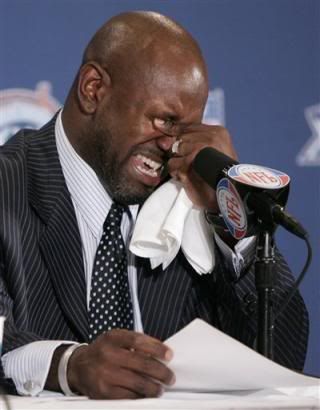 Former Cowboy Emmitt Smith, at the NFL Network studios, couldn't bear to read the results over the air. We know, these wounds run deep. Don't forget: you have those five Lombardis in the lobby!